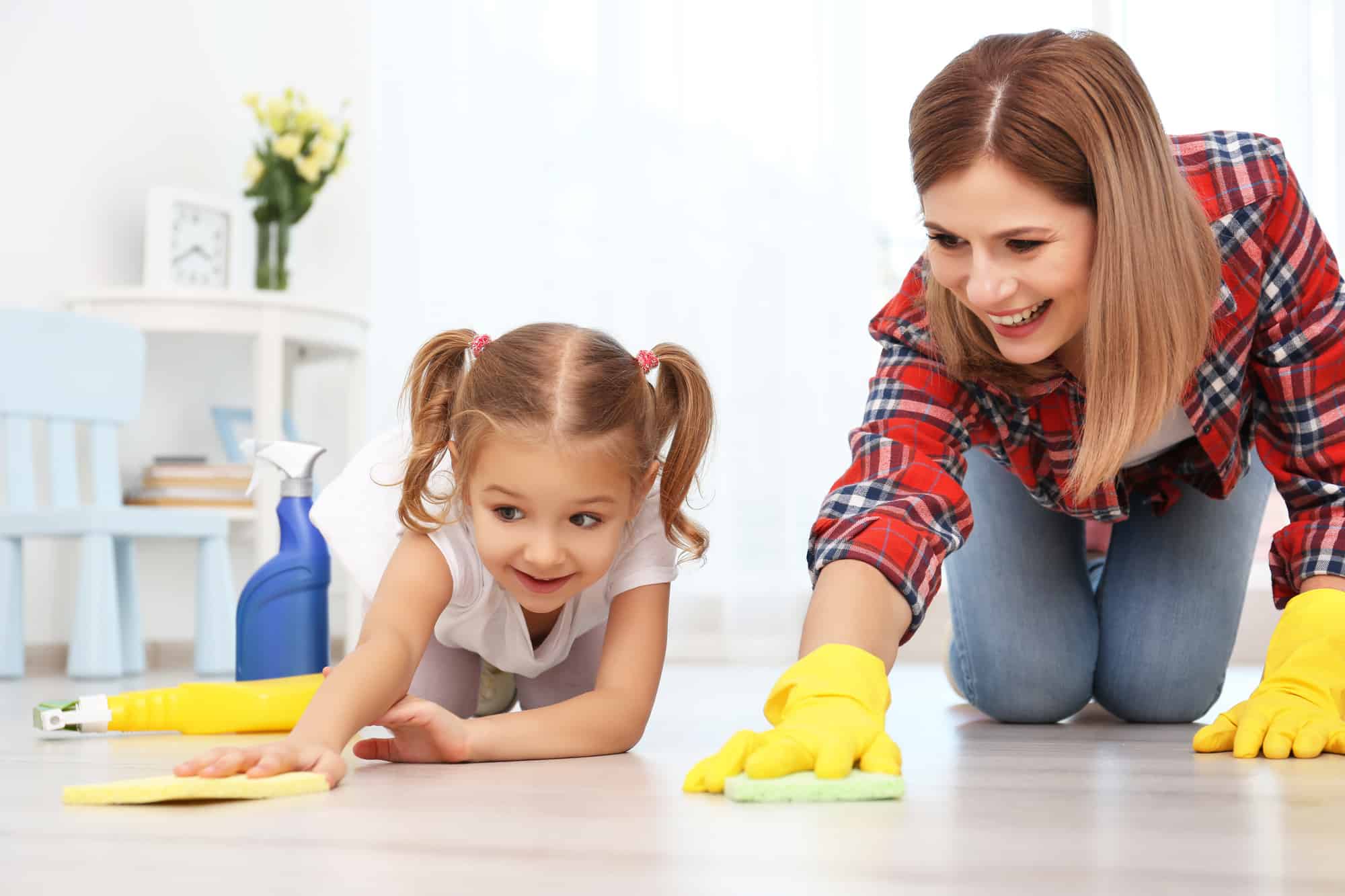 Routine cleaning in your home might not be the most fun activity, but it can be incredibly satisfying and save you a lot of time in the long run. Deep cleaning can be back-breaking work, so if you stay on top of the small cleaning tasks, you'll make your life a bit easier when it comes time to really put some elbow grease in.
In this guide, we'll cover everything from why routine cleaning is important to what's involved in a routine cleaning, plus so much more. First, let's dive into why routine cleaning is important in the first place.
Why Routine Cleaning is Important
If you're like most American's, chances are your schedule is busy at all hours of the day. It can be incredibly difficult to juggle work life, home life, and any cleaning that needs to be done in between. But keeping an organized and clean home also brings a sense of peace and calm, which we all need more of!
So, why does routine cleaning matter in the first place?
It Can Improve Your Mental Health
Did you know that cleaning is actually beneficial to your mental health? According to the Anxiety and Depression Association of America, cleaning can help with reducing stress, anxiety, and even depression in some cases. Living in a messy home can contribute to the feeling of anxiousness, so it's important to make routine cleaning a priority.
It Helps Your Physical Health
Do you have a lot of dust, mildew, or dander in your home? All that build-up can actually contribute to seasonal allergies. Cleaning your home on a regular basis can help keep your immune system stronger than ever.
It Saves You Time
As we briefly mentioned, routine cleaning can actually save you time. When you're in the thick of cleaning, it may feel tedious, but you won't regret it in the long run. If you clean your home on a regular basis, you won't have as much work to do when it comes time to deep-clean your space.
It Reduces Clutter
There's nothing like the feeling of a good home purge. When you routinely clean your space, you typically reduce clutter in the process as well. It's important to make room for all the things in your home in an organized fashion.
With all those reasons to clean, it's time to get started! But how often should you be cleaning your home?
How Often to Routine Clean?
There are different cleaning tasks that can be done daily, weekly, or monthly; it just depends on what you're cleaning. Daily or weekly tasks typically include sweeping, vacuuming, wiping down counters, dusting, cleaning your linens, bathrooms, washing dishes, etc. Monthly tasks might include cleaning out your refrigerator, pantry, and microwave, mopping, dusting air vents and baseboards, etc.
Routine Cleaning vs Deep Cleaning
Routine cleaning involves most of the items we listed above, while deep cleaning is a bit more involved and happens at a less frequent rate. If you stay on top of your routine cleaning duties, you might be able to get away with deep cleaning your home just a few times a year.
A deep clean includes things like steam cleaning carpets, washing drapes or curtains, power-washing your home and patio furniture, reorganizing drawers or closets, cleaning the inside of your cupboards, oven, and freezer. Deep cleaning tasks are ones that need to be accomplished, just less frequently than your routine maintenance cleaning.
Routine Cleaning Tips
For some, routine cleaning is a breeze, while others might need a few helpful tips. Luckily, whether you're a cleaning pro or novice, we'll cover a few quick tips to get you started.
Create a Checklist
Before you start cleaning, it's a good idea to come up with a checklist so you stay on track. We recommend making a list for each room that you want to tackle and laying out each item or section of the room you want to clean. What's more satisfying than crossing off important to-dos?
Gather Your Supplies
Once you have your checklist laid out, you'll want to gather any cleaning supplies you might need. It's a good idea to check your cleaning supplies on a regular basis to see if a trip to the store is in your future. When you have all of your supplies organized and in place, you're ready to clean!
Set Timers
Why not make cleaning more of a fun game? Try setting 10-15 minute timers for each of the rooms you plan on cleaning. This will help you stay on track while moving at a quicker pace.
If you need to set additional time – no worries! It's a game, after all.
If at the end of the day, you simply don't have the time for routine cleaning, you can always hire a professional cleaning service to take this task on for you. But, when hiring a cleaning service, you might be wondering what's involved in a routine or maintenance cleaning…
What's Involved in a Routine Cleaning?
At Maid for You Cleaning, we are happy to take on the everyday cleaning tasks that you might not have time for. During a maintenance cleaning, you can expect us to:
Dust the majority of your home including walls, baseboards, vents, bedframes, lampshades, door frames and molding, window frames, windowsills, and lock ledges
Make your beds with provided linens
Wash windows, sinks, drains, fixtures, bathroom vanities, and more
Clean all aspects of your toilets, including the inside and out
Tackle all of your kitchen cleaning needs, like wiping down counters, cabinets, pulls, appliances, microwaves, and more
Vacuum all carpet and hardwood floors
Empty and clean trash cans
We take pride in each home we clean and, as you can see, put in a lot of effort to ensure you have a great experience.
Don't Have the Time to Clean?
Or don't want to do it yourself? That's completely okay! We all have busy lives, so consider hiring a professional cleaning service to handle routine cleaning for you.
Contact Maid for You today to schedule a cleaning and we'll have your home sparkling in no time.